Organic Bamboo Clothing for Women
I'm loving my new organic bamboo clothing for women. I don't think I've ever worn anything so comfortable in my life. The fabric is super soft and you know that it will help you prevent sweating. In fact I like it so much I did some research on the benefits of wearing organic bamboo clothing. Personally, I find bamboo one of the most interesting plants around, I even grow my own inside my apartment.
THE BENEFITS OF WEARING ORGANIC BAMBOO CLOTHING
In a nutshell it boils down to:
So comfortable. To me my bamboo clothing feels similar to that of silk or cashmere.

Bamboo clothing is eco-friendly and ethical. In a world where we throw out so much, it's nice to know that some businesses are putting our planet as a priority. Read more about that further down this article.

Bamboo clothing is hypoallergenic and has anti-odour, anti-bacterial, anti-fungal and anti-static benefits. Bamboo has a unique antibacterial quality due to an antimicrobial bio-agent called "bamboo kun" which is found naturally in the bamboo itself. Bamboo keeps this antibacterial properties regardless of how often it is washed. Bacteria does not live well in bamboo so that means no bad smells will be kept in the fabric.

The fabric is breathable, moisture-wicking & thermo regulating. So now when you are pumping it at the gym, you can rest assured you will stay cool.

To wash use a warm or cool machine wash with similar colours, using gentle bio-degradable detergent, followed by drying in the shade. If using the dryer use the lowest setting, or set to 'delicates'. Obviously stay away from harsh detergents and bleaches.

Bamboo fabric is exceptionally good in a wide range of temperatures, so when worn it can it is cooling in summer and feels cosy and warm in the winter months making it a versatile garment for the whole year. Especially, camisoles and singlets for those colder days. Personally I find the fabrics so soft and comfortable I'll be gradually changing my whole underwear collection to bamboo clothing.

Bamboo fabric is very strong and resilient considering the softness of the material. It will not pill or easily unravel therefore keeping its shape and new look.

Bamboo fabric takes dyes very well so manufacturers can create shades that will last as long as that favourite dress.

Hypo-allergenic so is particularly suitable for eczema suffers and those with extra sensitive skin, which is especially important with items of clothing that are touching the skin like underwear.
When you are shopping for organic bamboo clothing do check out the company and read its policies on sustainability etc.
BAMBOO HISTORY
Bamboo is a natural resource which has been used for centuries in Asia. Bamboo in Asia is used for in cooking, building, transport, textiles and medicine. Many centuries ago Bamboo was used to make weapons.
SUSTAINABLE BAMBOO
Bamboo is not only pretty, it's a sustainable resource. The advantages of using Bamboo fibre as fabric is because of its strength, softness and versatile. The only problem is in the manufacturing of the fabric which is not quite 'green' yet. Bamboo is a fast growing plant and doesn't require pesticides or fertilising. Once harvested, bamboo can replenish itself in less than a year, mind you some species can grow up to 120cm per day so you can see how planting bamboo is a sustainable option.
ENVIRONMENTAL BENEFITS OF BAMBOO
My bamboo plant in my apartment brings me some benefits apart from just being pretty (and some believe lucky); it helps clean the air. I live on a very busy road and I can see a film of dust on my white cupboards that frequently needs to be cleaned. That's why I like having pot plants inside; to help filter the air. The density of bamboo forests can give back up to 30% more oxygen to the atmosphere than trees.
Because it grows so fast, bamboo can reclaim land that has had environmental damage.
Bamboo forests require less energy and water than other trees used for fibre production, they also pretty much maintenance free and can still grow when conditions are tough i.e. in dry periods.
Bamboo is 100% biodegradable so clothing made from the plant is safe to burn and dispose of.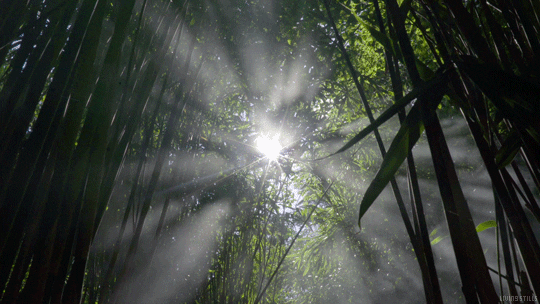 BAMBOO IN CONSTRUCTION
Bamboo can be laminated into sheets and planks used for construction and flooring. Bamboo flooring is a popular choice for many western homes. The highest quality bamboo laminate flooring is strong and highly attractive.
OTHER USES OF BAMBOO
Apart from clothing bamboo is used for towels, bedding, dishes and utensils. It is also used for mobile phone covers, toys, rugs, musical instruments and furniture.